Röseligarte Jam with Maru Rieben
14.10.2013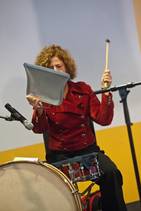 This autumn two Röseligarte jams, one in the Werktag Bümpliz on November 1 and one on November 28 in the Carré Noir Biel. Our guest is an Ornela, (Finally!, fellow musician Jacques and Adi sigh) namely Rieben Maru. Super interesting Bernese drummer, they will play also slope and singing saw. We are very pleased and excited!
Diesen Herbst zwei Röseligarte Jams, eine im Werktag Bümpliz am 1. November und eine am 28. November im Carré Noir Biel. Unser Gast ist eine Gästin, (endlich!, seufzen Mitmusiker Jacques und Adi) nämlich Maru Rieben. Super interessante Berner Drummerin, sie wird auch Hang und Singende Säge spielen. Wir freuen uns sehr und sind gespannt!
…auf ins Münsterland!!
08.10.2013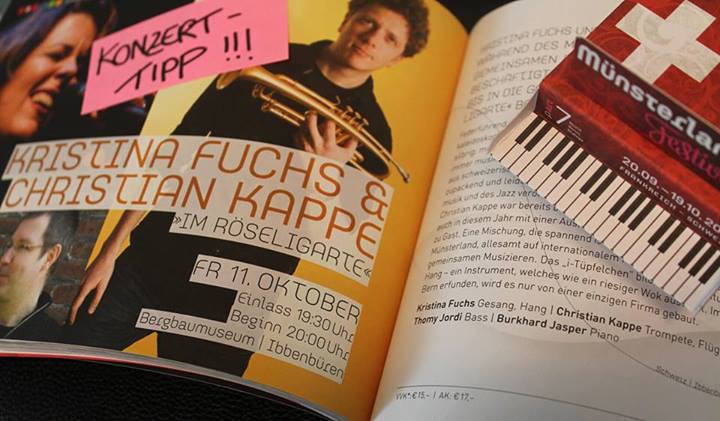 Looking forward to a trip to Germany where I'll perform with my former Royal Conservatory The Hague co-student Christian Kappe. Pack the bag with Loopstation and Hang, microphones and loads of cables – should be fun.
11. Oktober Bergbaumuseum Ibbenbüren.
Lackritz in Poschiavo
19.09.2013
Lackritz passed a week in Poschiavo from August 25th to 31st at a residency offered by Lo Spazio – a wonderful experience! We worked on new material and improved existing compositions…
Part of the residency were two concerts, one in Tirano and one in Lo Spazio itself. We played for a select but enthusiastic audience…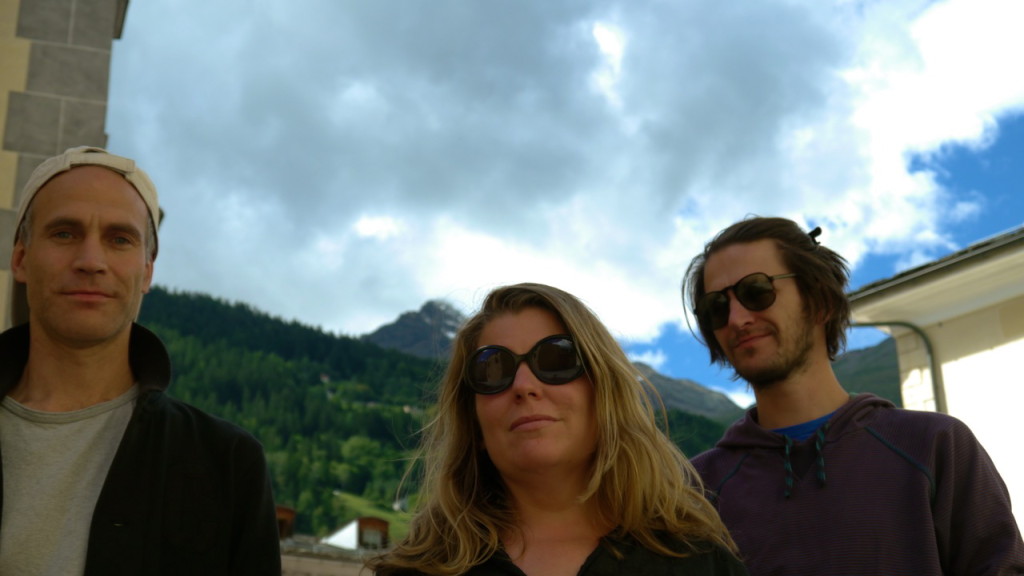 24.5.13 – Im Röseligarte live im GOSCHO
21.05.2013
"Im Röseligarte" ist ein Liedergarten mit schweizerdeutscher und welscher Tradition. Lieder die Otto van Greyerz gesammelt hat in seinem Strauss, und andere, aus dem Jura. Lieder, die den Kühen rufen, Melodien von früher für heute.
Wenn eine Bernerin über den Röschtigraben klettert und in jurassischer Mundart eine Hymne singt, und wenn ein Jurassier mit seinem béliers-Prärieblut auf Berndeutsch jodelt, dann atmet der Blasbalg des Luzerners, dann dreht sich die Mühle des Lebens.
Erde, Klänge, unsere Welt.
live im GOSCHO, Bern
Muristrasse 93
24.5.13 – 20h30
Bieler Tagblatt vom 13.04.2013
15.04.2013