Röseligarte Jams
10.04.2013
In diesem Frühling präsentiert Kristina Fuchs' "Im Röseligarte" wiederum eine Anzahl Röseligarte Jams mit special guests:
16. April 20h00 im Carré Noir Biel mit special guest Lucien Dubuis, reeds
18. Mai 20h00 im Carré Noir Biel mit special guest Daniel Erismann, tp&flh
24. Mai 20h30 im Goscho, Bern mit special guest Daniel Erismann, tp&flh
>roseligarte.ch        >carrenoir.ch         >goscho.ch
Im Herbst 2012 fand schon eine Serie Röseliarte Jams statt im Werktag Bümpliz, hier einige Video-impressionen:
Barbara Wiernik / Kristina Fuchs @ Midis Jazz
18.03.2013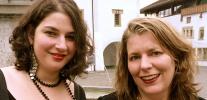 Barbara Wiernik – voix, effets
Kristina Fuchs – voix, effets, hang
Après de belles années d'une grande amitié, ces deux musiciennes se retrouvent autours de leur instrument : un duo de voix se crée pour ce nouveau projet quelque peu atypique basé sur la pureté, mais aussi sur les acrobaties et les jongleries vocales dont sont capables ces deux chanteuses hors du commun. Elles nous présentent un répertoire de compositions personnelles mais aussi de morceaux plus connus qui seront aménagés durant ce concert grâce aux pédales d'effets, aux loops, ainsi qu'au Hang de Kristina, instrument acoustique suisse qui fait briller les sonorités et qui ne cesse de mettre en valeur les magnifiques voix.
19.03.2012
Musée Charlier, 16, avenue des Arts, Bruxelles
12:30 – 13:30
Réservations: 02/219 58 51
info@leslundisdhortense.be
Lackritz in Zaal 100, 13.03.13 @ 21.00
25.02.2013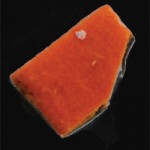 Within a fragile sound world, stirring soundscapes trade off with expansive melodies, creating exciting sounds that know no prior example. Enchanting, original, willful and seductive.
Lackritz (liquorice) passed its trial by fire at North Sea Jazz Festival 2010. Tim Sprangers wrote in the national daily De Volkskrant:
"The contradiction between languidness and a fiery energy create a constant charge. Klein's beautiful, repetitive bass clarinet motives are razor-sharp and heart-warming. Just as in his group Knalpot, guitarist Raphael Vanoli is surrounded by electronics, and plays like a frolicking child with Klein's tender patterns. Each member of the band is constantly engaged in a quest for new dimensions of combined sonorities. Kristina's possibilities are fabulous. The command, the capacity to listen and react, but above all the rich addition of her vocals to the group sound, make a comparison to the Norwegian voice-artist Sidsel Endresen an understatement."
Yodel in Hi-Fi
07.02.2013
Bart Plantenga: From Kitsch Folk to Contemporary Electronica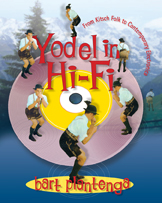 Yodel in Hi-Fi explores the vibrant and varied traditions of yodelers around the world. Far from being a quaint and dying art, yodel is a thriving vocal technique that has been perennially renewed by singers from Switzerland to Korea, from Colorado to Iran. Bart Plantenga offers a lively and surprising tour of yodeling in genres from opera to hip-hop and in venues from cowboy campfires and Oktoberfests to film soundtracks and yogurt commercials. Displaying an extraordinary versatility, yodeling crosses all borders and circumvents all language barriers to assume its rightful place in the world of music.
Concert Helvetic Fiddlers on February 10th
24.01.2013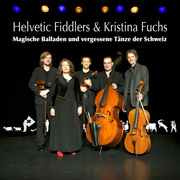 Die Helvetic Fiddlers haben sich rasant vom Geheimtipp zu einer der wichtigen, stilbildenden und innovativen Formationen der neuen Volksmusikszene in der Schweiz gemausert.
Mit "groovigen" Tänzen, rasantem Galopp, Lyrischen Walzermelodien und getragenen "Jüüzli" von eigenartiger Exotik und aus den urchigen Tälern der Schweiz, bieten die Helvetic Fiddlers ein musikalisches Wechselbad zwischen Melancholie und überschäumender Lebensfreude.
Neben den instrumentalen Tänzen wenden sich die Helvetic Fiddlers nun auch dem Schweizer Liedgut zu. Fabian Müller vertonte eine Reihe überlieferter Texte, zu denen die damaligen Melodien verschollen sind. Die Berner Sängerin Kristina Fuchs interpretiert die Balladen und Geschichten auf eine packende Weise.