djÂse in Delémont and Zürich and on SRF 1
10.09.2020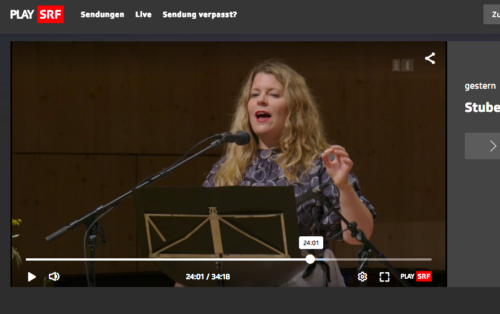 What a nice project! Written for Röseligarte extended by our Cellist Jacques Bouduban, with Adi Blum, Lucien Dubuis and my humble self, enriched by an Alphorn and a 16-piece choir. Songs in the pâtois of the Jura region, we performed in the Cultural Centre of Delémont and Tonhalle Maag in Zürich. More to come!
Corona – NoorderHeim
14.05.2020
… all concerts are cancelled …
maybe some are not… we don't know yet.
Difficult times for the arts, for performers, theaters, concert halls, museums, for the audience.
In these days, where everything seems so unsure, Saskia van der Heuvel and her team and I have started an initiative in Amsterdam Noord. We organise little "musical encounters" in empty café's, concert places and churches, film them and put them online. Find us on facebook – we're called Noorderheim.
Here's a little taste:

Linden CD – presentation
21.06.2017
LINDEN press
13.02.2017
"Music that fits in no box – light psychedelic atmospheric impro?" (Aad van Nieuwkerk, Vrije Geluiden)

"Unique in the Dutch improvised music. You could argue that Kristina Fuchs has created a new genre." (Herman ter Loo, Jazzflits)

"Fuchs in turn sounded sensual, teasing and playful" (René van Peer, Eindhovens Dagblad)

"Which again shows how beautiful the voice of Kristina Fuchs to this music folds: warm, sometimes childlike, then again sharply feminine and always sensitive." (Rinus van der Heijden, Jazznu)

"Muziek waar je geen etiket op kunt plakken." (Vera Vingerhoeds)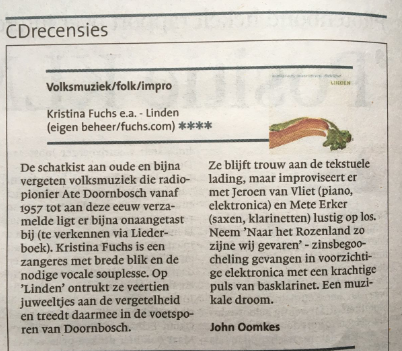 News on the Swiss National Radio srf
06.05.2016